As we neared the end, the stints were getting shorter. Just 53km this time but a lot of the team were hurting so that was a good thing. Things had generally gone very well. We'd had a few people feeling not so great and one or two minor mechanicals but no punctures and, most importantly, we were all still rolling and still together. Then came our scariest moment.
For large parts of the course we were sharing the road with cars. There weren't many and all of them were very considerate of the cyclists. On all dual carriageways the left lane was for cars and the right was for bikes with plastic dividers between each lane. As we approached one of these divided areas something went wrong. I don't know if the people in front didn't see the divider or if they didn't warn those behind early enough but several people hit one. They were made to bend so there were no injuries but Magnus, one of our best riders, hit the base of a divider and his bike leapt into the air. Everything went into slow-mo and all I could think was, "If he doesn't sort this out then I'm not going to be able to avoid hitting him and we'll both be down!" I've no idea how he managed but he landed, got the bike under control and we all continued on slightly shaken but totally injury free.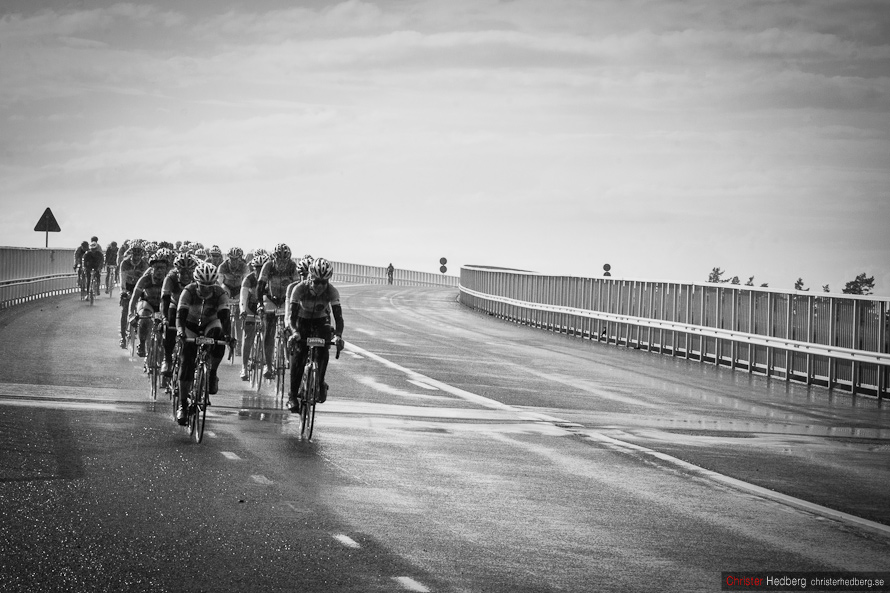 Picture from Vätternrundan 2012, Christer Hedberg
Again my energy levels started to drop so I was very happy to see the honey to line our bread rolls with when we got to Hammarsundet. You were only supposed to take one at a time but I took three or four and drowned them in honey.
After a quick rest and bottle refill we had a final check to see how everyone was feeling. We decided that the ones who were struggling would stay at the back of the group while the rest of us did the work at the front. We made sure everyone was ready and then off we set for the final stretch into Motala and the finish line…